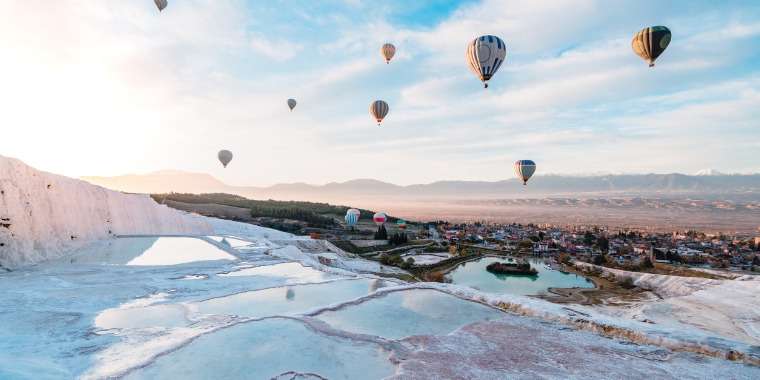 Pamukkale Travel Guide
Pamukkale Travertines, which have made their name known to the whole world and have a natural beauty that will make postcards jealous, come to mind as soon as they say Denizli. Pamukkale, which is at the center of attention of thousands of local and foreign tourists every year with its caves that have become the subject of legends, local flavors, interesting natural beauties and countless activity opportunities, can be a more economical holiday route thanks to Izmir Airport car rental, Denizli car rental, Pamukkale car rental services. Here is the Pamukkale Travel Guide we have prepared for you:
Places to Visit in Pamukkale
The world-famous Pamukkale, located within the borders of Denizli, which is right in the middle of the Aegean Region and the Mediterranean, has also written its name on the UNESCO World Cultural Heritage List. Places to visit in and around Pamukkale, which is almost dazzling with its interesting natural formations:
Pamukkale Travertines: Pamukkale Travertines, which are usually the first stop of those who come to Denizli, are really worth being the first route of a dream-like holiday.
Bağbaşı Urban Forest: Located approximately 2 km from Denizli city center, Bağbaşı Urban Forest is a frequent destination for those who want to spend time in touch with nature. You will get enough of the fresh air in Bağbaşı City Forest, which is home to many different tree and plant species.
Hierapolis Ancient City: The history of Hierapolis Ancient City, which is located very close to Pamukkale, dates back to the 2nd century. If you are interested in history, we recommend you to visit the ancient city with a guide.
Activities to Do in Pamukkale
You have benefited from Pamukkale car rental or Izmir Airport car rental services, you have planned your trip and now it's time to prepare your list of activities to do… Here are the suggestions:
• Photograph the natural formations of Denizli Pamukkale and see Pamukkale Travertines from the top with a balloon tour.
• Paraglide on Mount Honaz.
• Relax in the healing waters of Yenice and Karahayıt thermal springs.
• Cool off in the Hierapolis Antique Pool.
• Experience Pamukkale in a different way by participating in Jeep Safari tours.
Food and Drink in Pamukkale
Pamukkala - Denizli, which carries the breezes of local Aegean cuisine and Mediterranean cuisine, is a settlement that offers tastes from all world cuisines as it is also a frequent destination for foreign tourists. At the beginning of the flavors that you must taste in the region, there are bowl cover, tandoori, Denizli kebab, tirit, skimming, millet bread and flour soup. Popular eating places where you can taste all these delicacies are as follows: Kocabaylar Kebap Salonu and Kebapçı Baki. You can also taste flavors from world cuisines in Denizli - Pamukkale hotels.
Nightlife and Entertainment in Pamukkale
You came to Pamukkale by taking advantage of Izmir Airport car rental or Pamukkale car rental services, but you searched for entertainment venues. Don't be surprised by the small area of ​​the region, because it is a very touristic place, there are nightlife and entertainment venues that appeal to people of all ages and tastes: Imagine Bar, Pebble Casino, Saint Tropez etc. In addition to these, various festivals and events are held in Denizli at certain times of the year: Denizli Aegean Lovers Festival, Kızılcabölük Culture, Art, Textile and Fashion Festival, Akvadi Festival, etc.
How to go to Pamukkale?
Being located right in the middle of the Aegean and Mediterranean regions makes it very easy to reach from many cities. Do not forget that you can make your Pamukkale trip much more economical with Denizli car rental and Izmir car rental services.
Highway: You can reach Denizli, which can take 7 hours from Istanbul and 6 hours from Ankara, by bus services from almost every city in Turkey. Another option is to come to Denizli Pamukkale by renting a car from Izmir.
By Air: You can speed up your transportation with flights from Izmir Adnan Menderes Airport or Denizli Cardak Airport and start your Pamukkale journey comfortably by picking up the car you rented.
Railway: You can make your trip more enjoyable with Pamukkale Express, which provides direct transportation service from Eskişehir to Denizli. In addition, you can take a look at the Denizli train services departing from Izmir Basmane Train Station.