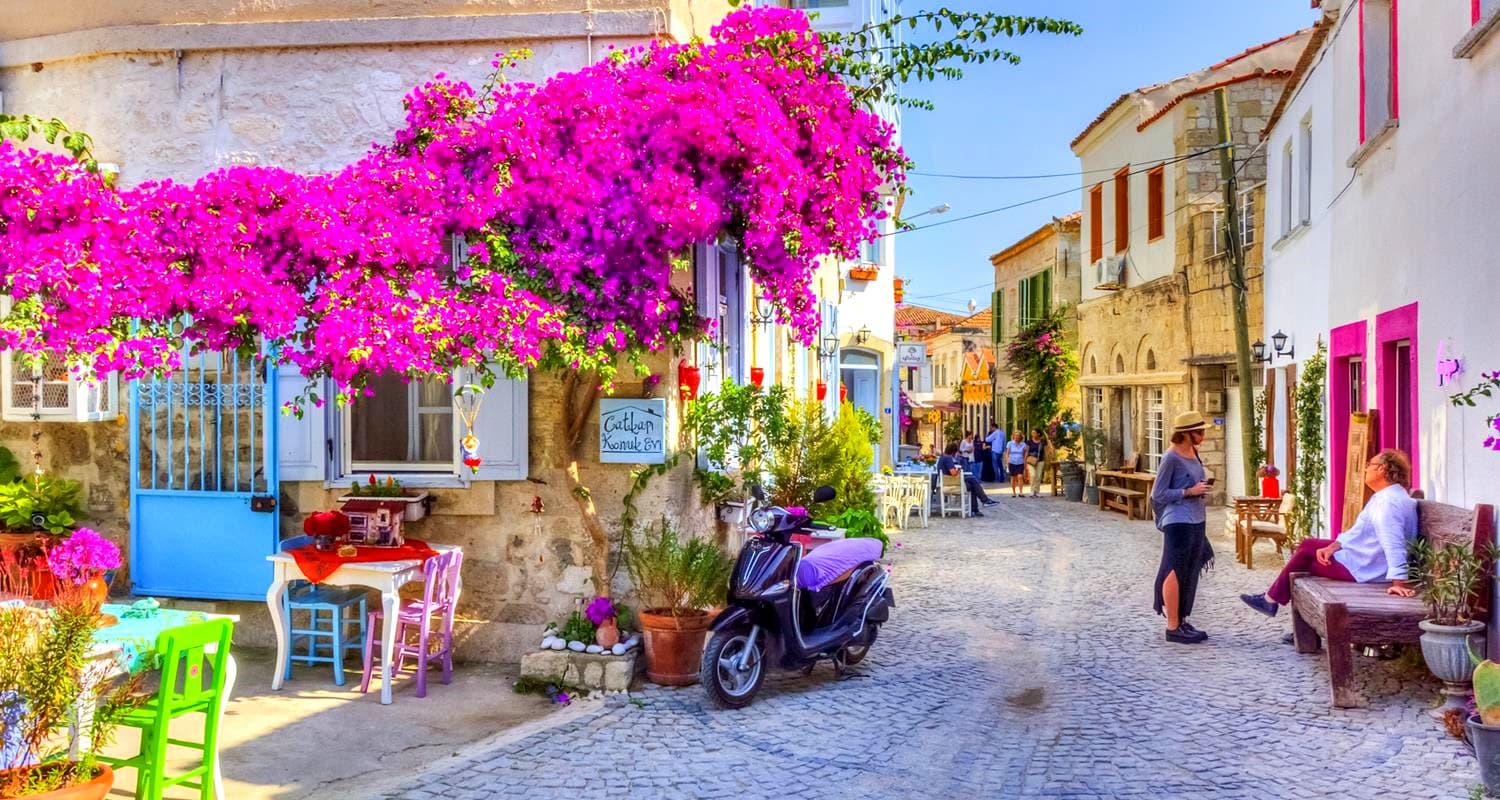 Alacati – Cesme Travel Guide
Hosting visitors not only from Turkey but from all over the world, Alaçatı is one of the most popular holiday resorts of our country. Alaçatı, which started to rise especially after the 2000s, pleases its visitors with its dazzling historical stone houses, cute and cute boutique hotels, festive events and festivals, delicious gummy ice cream and colorful night markets. You can make your Alaçatı holiday both more comfortable and more economical by taking advantage of Alaçatı car rental and Izmir Airport car rental services. Here is the Alaçatı Travel Guide we have prepared for you:
Places to Visit in Alaçatı
If you are thinking of visiting the whole of Alaçatı or even visiting other towns of Çeşme, we recommend that you make a travel plan of at least 2-3 days.
Alaçatı Mills: Alaçatı means a mill. The mill that you will see in most Alaçatı souvenirs is also the most iconic structure of this settlement. Alaçatı Mills, which is the right place to have a bird's eye view of the town and to enjoy the wonderful view, has a beauty that does not look like a postcard.
Alaçatı Market: You will not understand how time passes in Alaçatı Market, one of the most popular places in Alaçatı. You can also meet delicious organic delicacies in Alaçatı Bazaar, where all kinds of products are offered, from colorful souvenirs to local products.
Alaçatı Houses: The historical stone houses, which are iconic structures of Alaçatı, offer picturesque views. You should not leave the town without taking a photo in front of the historical Alaçatı Houses, which stand out with their history dating back to the 19th century.
Activities to Do in Alaçatı
You can make Alaçatı car rental services very affordable by taking advantage of early booking opportunities. Thus, you can start preparing your list of activities to do in Alaçatı:
• One of the first activities that come to mind as soon as Alaçatı is mentioned is undoubtedly windsurfing. Even if you have no previous surfing experience, it is possible to experience this unique experience by taking short-term basic training and renting surfing equipment.
• You can have fun at Alaçatı's beautiful beach clubs and enjoy the trio of sea, sand and sun all day long.
• Do not forget to buy beautiful souvenirs for your loved ones from Alaçatı Market.
• Spend at least one day in the famous Delikli Bay, which is appreciated by everyone with its sandy beach.
• You can take the pulse of shopping and nightlife in Alaçatı by going to Kemalpaşa Street.
• Do not forget to visit the Kostantinos Church, which is very close to the Pazaryeri Mosque.
• If it coincides with your holiday period, you can attend the Alaçatı Herb Festival.
Food and Drink in Alaçatı
Alaçatı food and beverage venues, where flavors from all world cuisines are available as well as tastes unique to the Aegean cuisine, offer opportunities to suit all tastes. You have the opportunity to taste the flavors of Alaçatı in both accommodation facilities and restaurants and cafes. Gummy coffee, gum ice cream, gum jam and seafood are among the main flavors that you should not return without tasting in Alaçatı. You can also explore great eating and drinking places during your Alaçatı holiday by taking advantage of Izmir Airport car rental services.
Nightlife and Entertainment in Alaçatı
Alaçatı nightlife is quite colorful just like in other popular holiday resorts and appeals to people of all ages and tastes. In a word, we can say that life begins at night in Alaçatı, where you have countless alternatives from live music venues to bars, pubs, beach clubs, taverns, taverns, discos and nightclubs. You can have fun until the first light of the morning in Alaçatı, where entertainment venues such as Aya Yorgi, Goz Lounge and Tektekçi stand out.
How to go to Alaçatı?
Road and airline alternatives are among the answers to the question of how to get to Alaçatı, which is preferred by hundreds of thousands of domestic and foreign visitors every year as a holiday destination.
Highway: You can reach Alaçatı within a distance of approximately 77 km by using İzmir car rental services.
By Air: After your flight from Izmir Adnan Menderes Airport, you can easily reach Alaçatı by covering an 84 km distance with Izmir Airport car rental service.