Izmir Airport Mercedes Vito Rental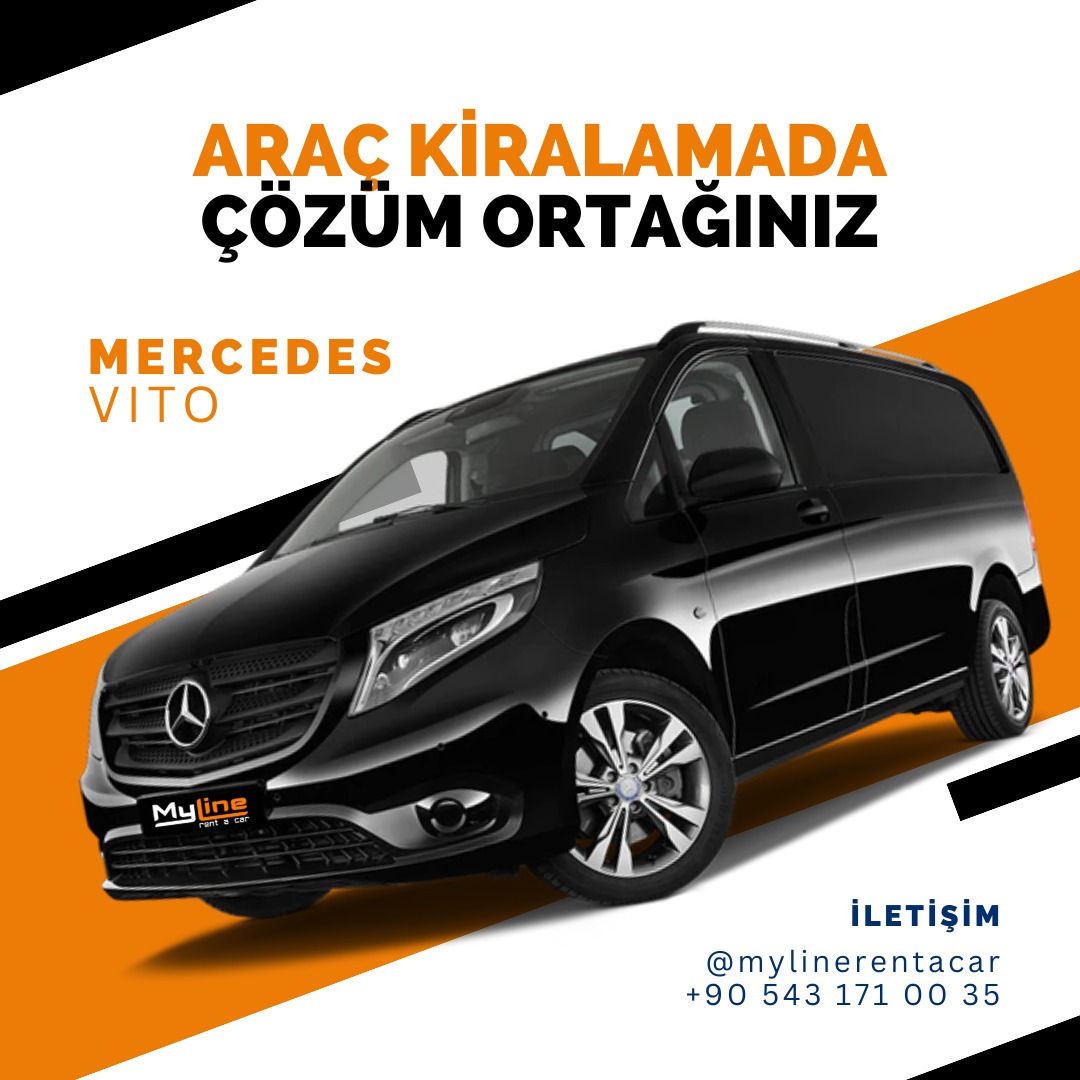 Izmir Mercedes Vito Minibus Rental
If you are planning to travel in large groups, renting a minibus will be the most economical and ideal option for you. There is nothing to worry about when traveling by minibus, because a very comfortable and luxurious transportation will be waiting for you. Quickly with the option of renting a minibus from Izmir Airport; You can plan your transportation with just one click. This transportation method, which is frequently preferred for large families, groups of friends, and company trips or meetings, allows you to travel without sacrificing luxury and comfort.
Izmir minibus rental With Myline, you can evaluate the latest technology, 8+1 passenger transportation alternatives. Depending on your preference, there are different alternatives such as Izmir VIP minibus rental or Izmir Airport minibus rental. You can compare the 8+1 passenger minibus rental options and prices for your needs, and take advantage of early booking opportunities.
When choosing the minibus you will rent, you should consider price, comfort, reliability, etc. You should consider factors such as how long you will rent and how many people you will travel. With Myline Rent A Car Izmir Airport minibus rental service, you can quickly plan your company organization trips and tours, and make travel very economical.
The only address for a cost-effective solution, Myline Rent A Car Izmir minibus rental services can be evaluated for individual preferences as well as for commercial businesses. The minibus you will rent promises a very comfortable and luxurious journey with 8+1 passenger options. With the Izmir Airport minibus rental alternative, you can receive your vehicle in a very short time when you arrive at the airport. A safe and comfortable journey awaits you with the 8+1 passenger minibus that you can easily rent for your holiday or business meetings in a different city close to Izmir or in a distant district.
Since the schedules of most company trips and holidays are timed and must be followed, it will be more comfortable and less costly to rent an 8+1 minibus rather than waiting for a taxi or renting a transfer vehicle. If you take advantage of the Izmir minibus rental service, you do not have to stop and get directions when you go to an unfamiliar place because they have GPS systems. You can get information about prices by contacting Myline Rent A Car to rent a minibus for as long as you need. In addition, Izmir Airport minibus rental, which you can use for your travel plans a few weeks or months later, becomes more economical thanks to early booking opportunities.
When you evaluate the Izmir Airport minibus rental option, the duration to be rented, the number of people to travel, the vehicle pick-up and delivery point, the vehicle model, whether it will have a driver, the period to be rented, etc. Factors such as these will certainly affect the minibus rental prices.
Izmir Airport Mercedes Vito Rental